*No Major Spoilers*
In his first-ever Doctor Who novel, Tom Baker's incredible imagination is given free rein. A story so epic it was originally intended for the big screen, Scratchman is a gripping, white-knuckle thriller almost forty years in the making.
The Doctor, Harry and Sarah Jane Smith arrive at a remote Scottish island, when their holiday is cut short by the appearance of strange creatures – hideous scarecrows, who are preying on the local population. The islanders are living in fear, and the Doctor vows to save them all. But it doesn't go to plan – the time travellers have fallen into a trap, and Scratchman is coming for them.
With the fate of the universe hanging in the balance, the Doctor must battle an ancient force from another dimension, one who claims to be the Devil. Scratchman wants to know what the Doctor is most afraid of. And the Doctor's worst nightmares are coming out to play…
---
I've been a fan of Doctor Who for several years. For anyone who knows me personally, I collect the Doctor Who spin-off books. I have even reviewed several of them on this blog. Even though Doctor Who isn't as popular as it was when the reboot started, my passion for this British icon still burns strongly.
This Doctor Who Adventure features the fourth incarnation of the Doctor who is traveling with his companions Sarah Jane Smith, and Harry Sullivan. Sarah Jane is a journalist for the local paper and Harry is a surgeon-general for the secret military group U.N.I.T.
When the Doctor and crew stumbled upon some scarecrows that are infecting the local villagers with a mysterious substance that's turning everyone into scarecrows. I thought I'd heard some version of this idea before. Interesting how the human psyche fears things that somewhat resemble ourselves.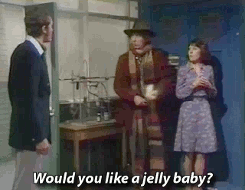 One of the more memorable moments in this novel features Sarah Jane running back to the TARDIS to fetch a contraption for the Doctor so he can build a mechanism that'll help defeat the scarecrows. Well, a scarecrow got in by mistake and starts chasing Sarah Jane in the many hallways and corridors of the TARDIS. Well one of the rooms had a device that shows the occupant's life. From the day they were born up until the day they die.
Well, the scarecrow is about to corner Sarah Jane in this room and infect her with this scarecrow dust and it sees it's life play out before it. We see the humanity in the voiceless and nameless scarecrow and it gives Sarah Jane enough time to escape the TARDIS which is coming down with this mysterious infection. I love how Doctor Who shows the humanity in the monsters/aliens when they have those characteristics.
Overall, I loved Scratchman, the atmosphere is creepy and suspenseful. I highly recommend listening to the audiobook, but either way, check this story out.