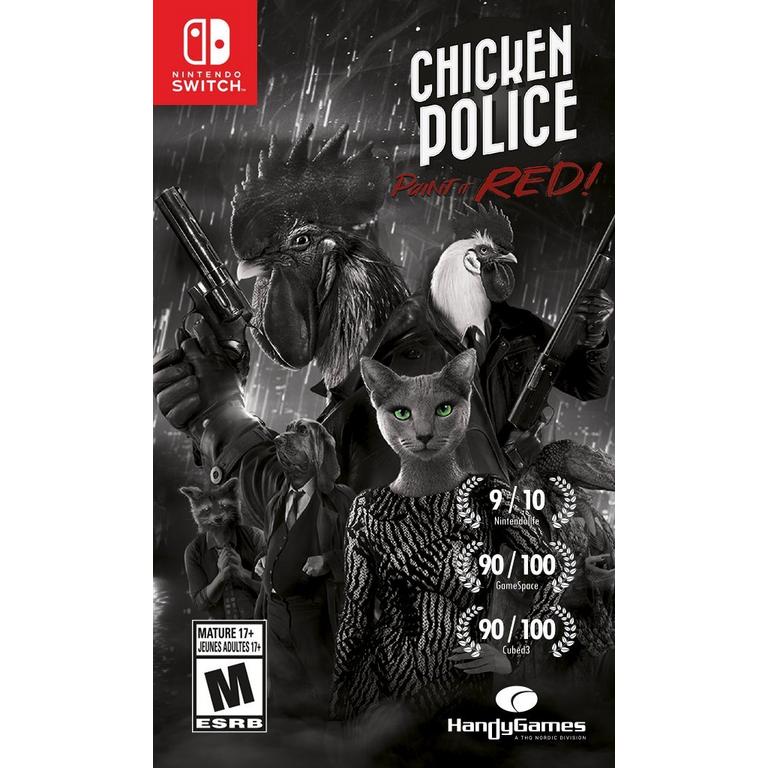 *This game is rated M* The language used is not suitable for children. Additionally, some scenes might be disturbing to a young audience due to the described violence, visual partial nudity, tobacco and alcohol abuse.
A wild tale of love, death, chickens, and redemption! Chicken Police is a buddy-cop noir adventure with a carefully crafted world, a gritty story, and absurd humor. The game mixes classic adventure games with visual novel-style storytelling, presented in a beak-droppingly unique art style.
---
I found this on Steam (a website where you can purchase PC games) when the algorithm recommended it for me. I tend to enjoy visual novels, farming simulators, and RPGs (Role Playing Game). So, I added it to my Wishlist and I intended to purchase it when it went on sale. However, my fiancé and I went to our local GameStop to get the new Pokemon game, and even though they didn't have it in stock, they had a used copy of this game for the Nintendo Switch. So let's peck out the clues and solve this mystery.
First off, I love Noir mysteries. I know we as a society tend to romanticize that era in history, but something about a jaded private-eye solving a case that quickly devolves into a deep mess is exciting.
Our main characters are Sonny Featherland, a police officer who's fallen on hard times and was put on sabbatical until his last 100 days of service are up. Sonny's former partner and best friend, Marty MacChicken is still working for the police department and misses the days of when the whole world knew about the Chicken Police. Marty is the comedian of the duo, and I have some screenshots with some of his more memorable quotes.
One small hang-up I had was with the interrogations. At the beginning of each section, it would tell you '[character name] is [character traits] we can use that in our favor and squeeze out the truth.'. It wasn't until I was about halfway through the game when it finally clicked what the game was conveying. I'm not sure if it was me being sleep-deprived while playing this, or just me missing the hints.
I had to look up some hints to the puzzles. Although most I figured out on my own, there was still one or two that I needed help with. I like it when games have puzzles I can easily solve on my own. Either by giving context clues or just exploring and examining everything in the room.
I loved the characters in this story, they were full of charm and humor. My favorite character was Monica. She works the front desk of the police station and is basically what is holding the place together. She doesn't put up with anybody's crap and is willing to help out Sonny and Marty when they needed to bend the rules. Monica ended up being my MVP by the end, I wanted to know more about her and be her friend.
Overall, I enjoyed this game. The mystery was great and even though once they hit a certain clue it was pretty predictable. Nonetheless, the characters, art style, and humor is what sells this game for me. I wish more people new about this game, but it's okay. I guess I like my games how I like my books, hidden gems.